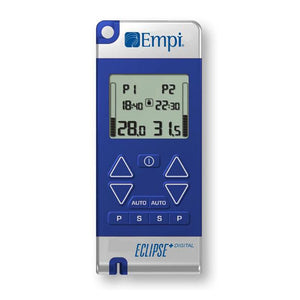 Eclipse+ Digital TENS Unit
Regular price
$844.94
$0.00
Translation missing: en.unit_price_label
Translation missing: en.unit_price_separator
Eclipse+ Digital
The Eclipse+ is a lightweight TENS device. The unit has two independent channels for treatment of multiple sites or greater coverage over a general area. It offers 7 stimulation modes, 11 user-defined treatment programs and fully adjustable parameters. Includes battery charger and AA batteries.
Technical Data:
Number of channels - 2 fully independent
Constant current - Up to a resistance of 1500 Ohm
Stimulation - current/channel (0-60 mA)
Pulse width - 50-400 ìs
Pulse rate - 1-120 Hz
Waveforms - Asymmetrical biphasic pulse, 100% compensated.
Stimulation modes - 7
Number of user-defined programs - 11
Timer - 1-60 min in steps of 1 min / Off
Stimulation modes:
Continuous (C)
Strength Duration (SD)
Burst (B)
Modulated Rate (MR)
Modulated Width (MW)
Combination Modulation (CM)
CSA certified.
---