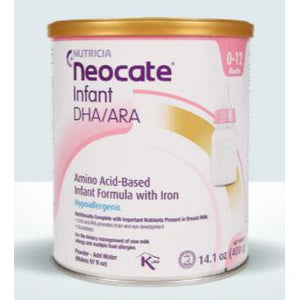 Neocate Infant DHA/ARA | 4 Cans x 400g / Case
Regular price
$371.11
Sale price
$391.00
Translation missing: en.unit_price_label
Translation missing: en.unit_price_separator
Manufacture Supply Delay
Danone
Neocate® Infant DHA/ARA is specially formulated for the dietary management of infants with cow milk allergy (CMA), multiple food allergies (MFA) and related conditions.
Good to Know
Added nucleotides & DHA/ARA
Dairy free
Made in a dairy protein-free facility
Soy oil free
No artificial colors, flavors, sweeteners
Kosher Pareve
Halal
Packaging 4 cans of 400g each
Neocate® Infant DHA/ARA is a specially formulated medical food and should only be used under medical supervision. It's important to always contact a healthcare professional before making any changes to your baby's diet.
Directions for Preparation and Use:
USE ONLY UNDER MEDICAL SUPERVISION.
Your baby's health depends on carefully following the preparation, use and storage instructions. Failure to follow these instructions could result in severe harm. Proper hygiene is important when preparing infant formula.
We recommend cooled, boiled water for preparation and the use of sterilized bottles. Ask your baby's healthcare team if you need to use cooled, boiled water for mixing and if you need to boil (sterilize) bottles, nipples, and rings before use.
Wash hands thoroughly and clean preparation area.
Pour the required amount of cooled, boiled water into a sterilized feeding bottle*.
Add the prescribed number of scoops of Neocate®

 

Infant DHA/ARA to the water. (All scoops should be leveled and unpacked).
Place the cap on the bottle and shake until the powder dissolves.
*Boiling is the preferred method for sterilizing water, bottles, nipples and mixing utensils.
To make a standard dilution (20 kcal/fl oz), add 1 unpacked, level scoop (4.6 g) of powder to each fluid ounce of water. Only use the scoop provided
Amount of
water
Amount of Neocate
powder to add
Approximate
final volume
3 fl oz
3 scoops or 13.8 g
3.3 fl oz
5 fl oz
5 scoops or 23 g
5.5 fl oz
8 fl oz
8 scoops or 36.8 g
9 fl oz
One can makes approx. 97 fl oz.
Do not boil formula and do not use a microwave oven to prepare or warm formula; serious burns may result. Formula dilution will vary depending on the age, body weight and medical condition of the infant. Neocate® Infant DHA/ARA is suitable as a sole source of nutrition for infants under one year of age. For oral and tube feeding only; not for parenteral use.

Freshly prepared formula is best. Formula prepared in advance must be cooled rapidly, stored in the refrigerator and used within 24 hours of preparation. Discard formula left in bottle or cup 1 hour after feeding starts. Tube feeding hang time should not exceed 4 hours.
Storage
Store unopened can at room temperature. Do not store at extreme temperatures. Once opened, reseal can and store in a cool, dry place (not in a refrigerator). Use within 1 month.
---