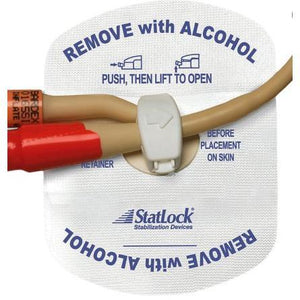 StatLock Catheter Foley Stabilization
Regular price
$12.00
$0.00
Translation missing: en.unit_price_label
Translation missing: en.unit_price_separator
Releasable design allows for easy cleaning of patient. More effective alternative to tape in helping improve clinical outcomes, quality of care and economic efficiencies.
For latex and silicone catheter.
Tape-free.
Reduce Foley catheter movement.
Minimize accidental catheter dislodgements.
Maximize patient comfort by eliminating circumferential compression and alleviating traction of urethral catheters.
Breathable tricot anchor pad.
Alcohol-soluble adhesive.
Additional Information:
Age:

 

Adult

Sterility:

 

Sterile

Latex content:

 

Latex-Free

Brand:

 

StatLock® CV Plus

Specifications:

 

Latex and Silicone Catheters
Overall very satisfied. One suggestion though!
This was the second time I ordered this product online. The first from a different supplier. The product did not work properly as if turned out to be product # FOL0101. I tokk a chance and order your similar product but it only had a written description for actual product not the product number which was FOL0102. Appears to be a latter version of the STATLOK and it did work well. As you have a no return policy it would be nice for you to actual put the product number on your add in the future, to clearly indicate the version/model type.
Review from an RN
I think this is the best catheter stabilization device I've used (in both Long Term Care and Home Care.) It stays on and very secure for a long time (a couple weeks.) The catheter sits in a little clip that can turn but won't pull. It comes with a skin protectant wipe that also helps it stay in place. Use an alcohol swab to remove. This product is great!
---