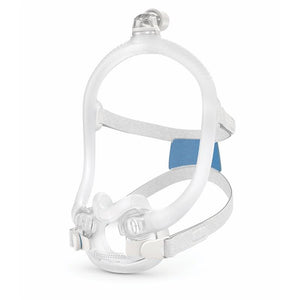 AirFit F30i Full Face CPAP Mask
Regular price
$141.11
$0.00
Translation missing: en.unit_price_label
Translation missing: en.unit_price_separator
The AirFit™ F30i full face mask is designed to give you more freedom to sleep how you want, while maintaining a comfortable, reliable seal.
Preferred by both patients and sleep professionals* to DreamWear full face1,2
Proven to seal significantly better†

 

than DreamWear full face1
Expands our full face portfolio to include a top-of-head tube design
For me it's good
I have been using a cpap for a couple of decades and this is the best fit for me. It is not perfect, but the best I have used. Because I sometimes open my mouth when sleeping, I need the full face cushion. I think it would be good if there was a mask that features full-face and nasal pillows.
AirFit F30i Full Face CPAP Mask
Hello,
It seemed ok but, I did not feel comfortable with it.
I like it most of the time
This mask is very comfortable and doesn't leave red marks on my face. Most of the time, it fits well and doesn't leak. However, some nights I get random leaks and have to adjust things. I think I will really like it in the long run, though.
Still adjusting
The seal at the nasal cushion seems to be tricky while I move in my sleep I wake up to hear the leaking. Will keep tweeking things until I feel I have mastered how to use it with least leaking.
AirFit F30i Full Face CPAP Mask
---