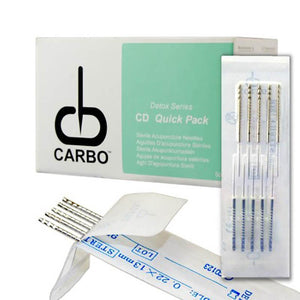 Carbo Detox Acupuncture Needles
Regular price
$0.00
$0.00
Translation missing: en.unit_price_label
Translation missing: en.unit_price_separator
These specialty needles feature all of the Carbo brand needle characteristics packaged for use in drug detox clinics.

The Carbo Detox disposable acupuncture needles feature the pipe shape aluminum alloy handle and are packaged ten needles per pouch. The unique feature of the pouch design is that ten needles are divided into two sets of five diametrically positioned needles so that five are available at one time by opening one end. The second set of five is then available when opening the other end of the packaging. All needles are separately positioned for easy access of one needle at a time. This layout makes it convenient for practitioners using the protocols developed by the National Acupuncture Detoxification Association (NADA).

Although they are called detox needles, they can be used for other ear, hand and face needling. These needles are packaged without guide tubes.
Packaging: 500/box
Size: 13 x 22
---