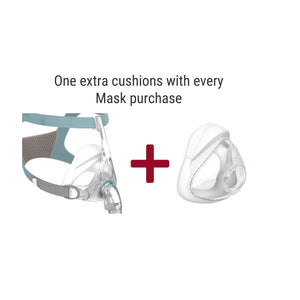 F&P Vitera™ Full Face Mask with extra Silicone Cushion
Regular price
$189.97
Sale price
$435.00
Translation missing: en.unit_price_label
Translation missing: en.unit_price_separator
Our Vitera Bundle pack comes with the entire mask plus an additional silicone cushion
Comfort is unique, personal and it is the key to successful CPAP therapy1. That's why we believe comfort needs to be measured across a full night's sleep, not just during the initial consultation.
With technologies that work together to provide breathability, adaptability and stability throughout the night, F&P Vitera is a mask that redefines comfort.
Keep cool and comfortable with VentiCool™
Sweating during sleep is a well-known symptom of patients with Obstructive Sleep Apnea.2
Vitera headgear features proprietary breathable fabric that allows 21 times more air flow and 35% more moisture transfer than the material used in our leading range of full face masks.
VentiCool technology helps to keep patients cool and comfortable during sleep.
Freedom to move with RollFit™ XT
The RollFit XT seal allows the mask to dynamically adapt as patients move during the night, keeping the seal in place, as well as reducing pressure on the bridge of the nose. The RollFit XT seal extends 93% further than the previous generation RollFit seal.

The RollFit XT seal shape has also been designed to fit a wide range of face shapes and minimize leaks into the eyes.
Stable and secure with dynamic stability
The stability bar and RollFit XT seal provide dynamic stability to keep the seal comfortable and secure during the night.
Not for me
Used Simplus before Vitera. Thought I was upgrading but I couldn't figure out how to deal with leaks (at higher pressures). Had to switch back to the Simplus. Otherwise, if you have a normal / moderate pressure level this mask is much better than the Simplus IMO - fixes the issue with the straps coming unhooked by the forehead.
---