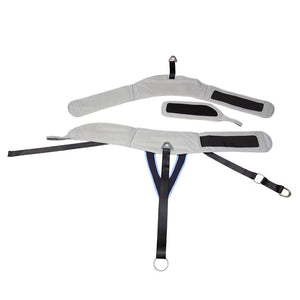 Deluxe Universal Traction Belt System
Regular price
$425.00
$0.00
Translation missing: en.unit_price_label
Translation missing: en.unit_price_separator
The Deluxe Universal Belt System assures the highest level of patient comfort without cumbersome buckles and belts. The A/P pull force is distributed evenly to eliminate the slippage typical of older style traction therapy belt systems. Universal fit with hook and loop closures make the Deluxe Universal Pelvic and Thoracic Traction Therapy Belt System the fastest set-up ever for your traction therapy. Can be quickly wrapped, set up and receiving traction therapy with a level of comfort as never before.

Important: This model of belts require that your traction table has a bracket, located under and right behind the nose hole, to attach the thoracic belt with one hook only .

It is not compatible with the older models of table that have only the dual bracket attachment.
---