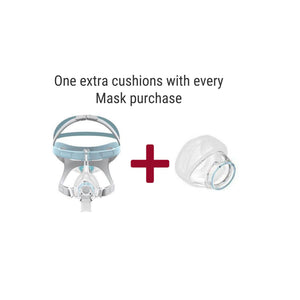 Fisher & Paykel ESON 2 Nasal Mask Bundle Package
Regular price
$151.11
Sale price
$249.99
Translation missing: en.unit_price_label
Translation missing: en.unit_price_separator
Our Eson Bundle comes with one mask and one additional silicone cushion!
Confidence comes easy with the Eson 2
Eson 2 Nasal CPAP Mask was designed to meet the needs of patients and sleep professionals, at every important milestone in the sleep therapy journey.
RollFit Seal. As the name suggests, the one-piece seal 'rolls' back and forth on the bridge of the nose to adjust automatically. In doing so, the RollFit Technology reduces pressure on the bridge of the nose.
ErgoFit Headgear. This breathable, ergonomically designed headgear has been designed to self-locate high on the rear of the head allowing for head movement (sideways, up and down)..
Easy Frame. This low-profile frame is stable, durable and small, and ensures a clear line of sight. The one frame fits all three seal sizes and has an Easy-Clip frame attachment to aid assembly after cleaning.
VisiBlue highlights provide visual cues for simpler, more intuitive fitting, disassembly, and reassembly.
F&P Eson 2 Nasal CPAP Mask is designed to improve adherence in tune with what patients and their healthcare providers want.
This product comes in the following sizes:
Small:
Medium:
Large:
Fit-Pack (S, M & L cushions): 
Order was not fulfilled. Did not receive bundle package.
The package I received did not include the second nasal cushion. I only received one mask. I've sent two emails re: this, most recently last Friday. I await a reply,
---