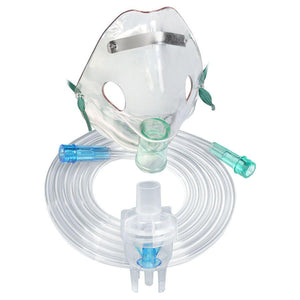 Misty Max Nebulizer Mask Adult & Pediatric Singles & 12 pk
Regular price
$6.75
Sale price
$81.00
Translation missing: en.unit_price_label
Translation missing: en.unit_price_separator
Airlife "Misty Max 10" nebulizer, with 7' tubing and aerosol mask
10 cc Capacity
Comes in Singles, 12 packs and 50 Packs
Easy transaction and fast delivery Thanks!
It's a quality product and I use it 3 times a week.
Misty Max Nebulizer Mask Provides Excellent Results with Nebulized Hydrogen Peroxide
I was successful with one application of nebulized 0.1% hydrogen peroxided in 0.9% saline solution and one drop of Lugol's Iodine, in a total volume of 5 mls, that lasted about 20 minutes max in completely arresting sinus sniffles and the initial onslaught of a bronchial infection within 3 hours....
I'm 79 years young and have addressed respiratory susceptibilites my entire life so I've had a lot of options for prevention of infections; Nevertheless, the Misty Max used with Pari Trek S compressor are an outstanding additional combo to my arsenal of healing and prevention protocols...and my full recovery time was the shortest ever....
---
Customer Reviews
09/28/2021
Anonymous

Canada
Great quality
Hose is longer and more flexible than others I have purchased elsewhere.
05/08/2021
Roz W.

CA
it's fine, nice piece of
it's fine, nice piece of equipment