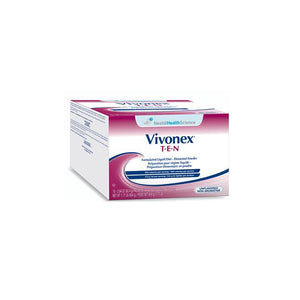 Vivonex TEN Powdered Elemental Formula | 60/case
Regular price
$689.99
$0.00
Translation missing: en.unit_price_label
Translation missing: en.unit_price_separator
The Tolerex and Vivonex families of elemental diets require minimal digestive functionality while providing the benefits associated with continued use of the GI tract
Vivonex TEN is a powdered, nutritionally complete, elemental formula with 100% free amino acids providing 1.0 Cal/ml with 15% protein equivalent and 3% calories from fat for severely compromised GI tract. 
For oral and tube feeding use. 
For greater than 3 years old
Gluten free and Lactose free
Kosher
For nutritional management of:
Severely impaired GI function: severe protein & fat malabsorption, extensive bowel resection, early postoperative feeding
TPM alternative
Transition from TPN
Dual feeding with TPN
80.4 grams x 60/case
  ***SPECIAL ORDER ITEM - RETURN/CANCELLATION RESTRICTIONS MAY APPLY
The things we do for love (sick dog)
Walmart Canada jacked up the cost of vivonex ten by over 100% just 3 months after I began ordering it. That is criminal to me. This is difficult to source and is expensive as it is. Capital had the best price. My dog needs a packet a day and at $11 / packet - you get the point. I am grateful to have found Capital and I hope they don't pull a Walmart on me. I can't afford to pay more and my dog is alive because of this stuff.
---